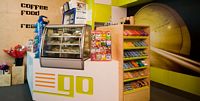 Welcome to Go Kiosk...
Located at the Warnbro Train Station in WA
Go Kiosk Warnbro opened its doors in April 2009 offering all the commuters located in Warnbro and surrouding areas a great pit stop when arriving and leaving the Warnbro Train Station. Go is the leading Kiosk on the Mandurah Line as it offers a very wide variety of items at affordable prices.
Proprietor Sarah McDonald is extremely pleased with the public's response to the Kiosk since opening and is proud of what has been achieved.
Warnbro Train Station is located on corner of Safety Bay Road and Ennis Avenue, Warnbro. The station attracts residents not only from Warnbro but the surrounding areas such as Baldivis, Secret Harbour, Singleton, Waikiki, Safety Bay and Rockingham.
If you comute to work, then why not leave from either Warnrbo and pick up something yummy to drink or eat on your way to work.
Go Kiosk is an Agency Retailer for SMART RIDER as well as E-PAY and accepts Eftpos, Visa and Mastercard payments.